Faculty and Content Developer Profile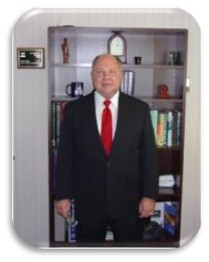 Dr. James K. Kolacek, III
M.B.A. Business Administration
D.B.A. Business Administration
Executive Professional
Business Administration
Professional Education
Expertise
Leadership
HRD
Conflict Management
Operations Management
Economics
Diversity
Entrepreneurship
Customer Service
Organizational Behavior
Marketing Management
Total Quality Management
Supply Chain Management
Behavior Profiling
Dr. James Kolacek is a Senior Management and Executive business professional. He is passionate about organizations, business administration, and human behavioral styles. He is both a teacher and practitioner in the fields of management, marketing, human resource management, communication, and team building.
Dr. Kolacek has amassed over 25 years of senior management experience with leading Fortune 500 consumer products companies including: Rubbermaid, Boise Cascade, and GBC. He has held the positions of National Sales Manager, Vice President of Marketing, and President/CEO in these firms. His management experience is augmented by several years of teaching experience in the areas of management, marketing, human resource management, communication and team-building.
He has published several articles and has been featured in The Wall Street Journal. Nova Southeastern University has recognized him as " Distinguished Alumnus " for his innovative contributions to management science in areas such as operations management, sales, and marketing. He was nominated into International Who's Who Of Business Entrepreneurs.
Dr. Kolacek obtained a Master of Business Administration, a Master's Degree Specialty in Human Resource Management and a Master's Degree Certification in Business Development. He also attained a Doctor of Business Administration from Nova Southeastern University.
In addition to his private consulting practice and government service role, Jim was the Director of the MBA Program for Warner Southern College, Business Chair for Keiser College and has taught for Nova Southeastern University and the New York Institute of Technology since 1988 with particular emphasis upon launching successful MBA programs internationally.
Eleven years ago, Dr. Kolacek began extensive research into the study of human behavioral styles. This research has expanded into one of the largest private databases of behavioral subjects in the world, exceeding 10,000 participants. His work has led to the evolution of several leadership, management, and organization communication programs which have been adopted by organizations such as: The Florida Institute of Government, Pratt & Whitney, Costco Wholesale, Rockwell International, Quaker Oats, The 15th Judicial Circuit Court, City and County Governments of Palm Beach County, The Royal Saudi Air Force, The U. S. Air Force, The U.S. Army, Alliant Energy, Florida Power & Light, AIG American International Companies, Inc. Nova Southeastern University, Florida Atlantic University, Warner Southern College, Alabama Southern College, First Alabama Bancshares, etc. Dr. Kolacek is a frequent keynote speaker on the subject of behavioral styles, communication effectiveness and delivering extraordinary customer service.
Dr. Kolacek is a charter-certified Myers-Briggs MBTI behavioral practitioner and a licensed and certified Achieve Global (Zenger Miller) Trainer. Additionally, he is a Florida Supreme Court Certified Mediator and an External Examiner for the University of the West Indies.
Dr. Kolacek resides in South Florida and is a member of and has served as an officer for several professional and industry-affiliate organizations including SHRM, ASTD, APICS, and Florida Academy of Professional Mediators. He is a frequent keynote speaker at several professional and civic group meetings, conferences and task-force initiatives.