Faculty and Content Developer Profile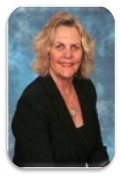 Ms. Madeleine Perl
A.S. Biology
B.Sc. Administrative Studies - HR Specialty
M.Sc. Business - HR Specialty
Human Resource Administration
Employment Law & Policy
Professional Education
Expertise
HR Management
Employment Law Employment Policy
Diversity Management
Career Planning
Conflict & Change
Org. Behavior
Org. Development
Madeleine is a Human Resource professional and educator. She is passionate about employment law, policies and decision making and working with people.
Madeleine grew up in Miami, Florida, where she graduated from Miami Edison Senior High School and later joined the Army at the age of 18. Madeleine received special training and became an Air Traffic Controller during the Vietnam War era. She later married and dedicated many years in the intensive work of raising a family of six children, all of whom are now grown.
Originally aspiring to be a Veterinarian, Madeleine earned her first college degree in Biology and Chemistry. Years later, Madeleine returned to continue her educational journey and majored in Business Administration with a specialty in Human Resources.
Madeleine's work experience is an extensive contribution of over 30 years in non-profit, for profit and public organizations. This includes fourteen years of dedicated service as the Head of Human Resources for a mid-sized service organization of 5,000 employees in South Florida. During her time with the organization, Madeleine was promoted for her excellent work and contribution to the position of Vice President of Human Resources.
Madeleine's experience has also been in the field of education. Madeleine has invested her knowledge, skills, and ability into students for six years as an Adjunct Professor of Business with a specialty in Human Resources. Her teaching experience includes courses such as Human Resources Management, Strategic Human Resources, Organizational Behavior, Diversity Management, Conflict and Stress Management, Organizational Development and Change, Human Resources Law, Career Assessment and Planning, and Balancing Work and Life.
Madeleine is a member of several professional organizations including Society of Human Resources Management, American Society of Training and Development, Human Resources Association of Broward County and Sigma Beta Delta National Honor Society. Madeleine also serves on the board of the Drucker Society of South Florida.
Madeleine's hobbies include spending time with her six grandchildren who reside throughout the United States in California, North Carolina, and Florida. She also enjoys raising and showing toy dogs and is a member of the Tropical Havanese Club.
Madeleine resides in South Florida, with her husband, where she is completing her Doctoral degree in Business Administration with an emphasis in Human Resources.